V247 - The Vietnamese community living and working abroad is increasing. Some people have been gone for a long time, some have just arrived. However, even though they are living in a different country, with a completely different environment, they still remember their roots, remember their loved ones back home. Therefore, the need to bond and call to visit each other becomes an essential need.

The world is increasingly going up in the field of Science and Technology, the telecommunications industry has made amazing progress. International calling services were quickly born to connect people closer together, geographical distance is no longer an obstacle.
When it comes to software, call services from abroad to Vietnam. Many services are mentioned such as Vien Lien 247, One Click Service, Skype2Vietnam, Fone1718 ... Even bigger are the applications of technology giants Yahoo, Google Talk, Skype ...
Although there are too many choices, each technology or service has its own advantages. But realizing the priority needs of the Vietnamese Community in particular is still a simple, convenient, easy-to-use, audible and cheap service... And the service of Far Lien 247 is the only service that meets all those needs.
In 2013, Vien Lien has made major changes in technology and services. With a huge investment, the equipment is renewed and upgraded to better serve customers.

TELEPHONE SERVICE OF FAR LIEN 247

Vien Lien 247 provides telephone services including phone card service, pinless service. With just a few simple steps on your computer, you can easily load minutes. Or you can call Vien Lien's toll-free switchboard, you will be supported by a team of professional customer care staff, recharge the card, buy call minutes.
One Click service of Far Lien 247.
The latest change of Vien Lien 247 in 2013 is the maximum upgrade of One Click service – a prominent function of VOIP technology innovation. "One Click Service" – just click once to call immediately. Nothing is as simple and convenient as One Click service.
Here are 5 reasons why Vien Lien's One Click service thrived in 2012:
1. Easy to use.
With One Click service, go to the contacts, press the button to immediately call Vietnam or anywhere in the world. A function that seems perfect for convenience for users, especially older people, who do not need to memorize phone numbers.

2. Super time saving.
In the past, when using other services to call internationally, customers often complained because they had to go through many steps, which took a long time: before calling the number to call, it was necessary to remember the switchboard. This makes customers very uncomfortable. Now, with One Click service to call Vietnam of Vien Lien 247, customers no longer have to worry about that problem.

3. Ultra-fast connection.
With previous regular calls, we had to dial the local switchboard + (country code) + phone number to call. The connection process takes 2 (more) times. For now, One click of V247 Vien Lien helps you connect right away.

4. Avoid International Call charges.
According to reports of Vien Lien 247 call management staff, in the past when customers used international phone call services to Vietnam. Calls are made in 2 steps: dial the switchboard number + (country code) + phone number to call. Thus, the rate of customers pressing the wrong Send/Talk button is very high, due to the general habit when using the phone. And negligence is charged International rates from 3-5 $ / minute. This problem has been eliminated when customers use Vien Lien's One Click service. Not wanting to pay unjustly fees, that's why more than 70% of the Vietnamese community in the United States uses the service to call back to Vietnam to visit family members.

5. Charges as called normally. There is no enrollment fee.
The convenience and convenience are clearly shown when using the services of Far Lien 247 (V247), One Click solves the obstacles of conventional calling. There is no additional cost when using a better service. Vien Lien 247 focuses on the quality of service to customers.
In addition, when using the services of VienLien 247, you will also be given Egift Vouchers to use at restaurants in the United States located in VienLien247's restaurant system.
---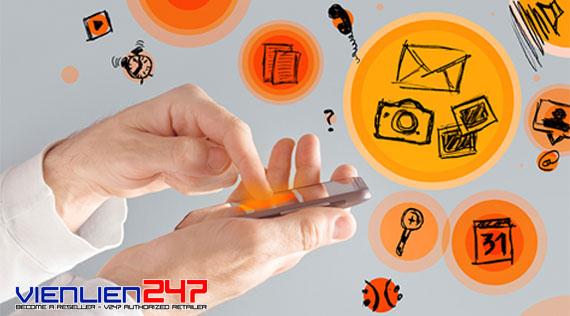 Đặc điểm điện thoại Pinless V247

Âm thanh rõ ràng
Gọi phút nào tính phút đó
Không cần bấm số PIN
Không cần ký hợp đồng
Không cần đổi công ty điện thoại
Không lệ phí hàng tháng hay phụ phí
Không hết hạn sử dụng
Kết nối toàn cầu
Trả tiền, quản lý, in hóa đơn trên mạng
Nhiều chức năng đặc biệt như:
Chức năng bấm số nhanh
Chức năng cài đặt số phút cho cuộc gọi
Tự động chọn đường kết nối tốt nhất
Nhiều số điện thoại trong cùng một tài khoản có thể sử dụng cùng một lúc.